Services Overview
Anchor Ship Chandlers are one stop solutions for responsive and reliable service providers in India. We provide professional and reliable services that will enable you save time and money. Your success means we succeed. As our satisfied and valued 180 + customers surrounded the Globe. We understand your needs and exceed your expectations. The supply of marine technical stores like Provision, Bonded, Deck, Engine, Cabin, Electrical, Safety, Navigation, Publications, Medicines and Stationery stores.

Anchor Shipping is able to provide full agency services to our clients. Most clients who avail of this service find that they are able to make considerable savings by entrusting all vessel requirements from single stop, thereby substantially reducing transportation costs. Services include looking after all vessel staff requirements, repatriation, agency etc.

We can provide you and your vessel with fast, efficient & reliable service given reasonable notice. We are known for our professionalism in all aspects of the chandelling business, our very well trained, professional team ready for your service on nominated time period.

Specialized services include Hull inspection and assessment, Propellor, Shaft Cleaning, Sea Chest valve Cleaning, Photography, and repair of submerged structures worldwide.
Some of our services
Ship Chandlery
Crane / Engine and Deck Repair Services
Engine Systems & Spares (M/E & A/E)
Lashings
Lifeboat & Life Raft Inspection Services
Oil Sludge Removal
Provisions / Bond /Pantry/Deck/Engine Stores
Pumps
Safety
Ship Repair Services
Underwater Inspection Services
VDR Inspection Services
Certifications of Sanitation / Chest and Indian cargo Gear
Navigation & Communication items.
Calibration and test equipment
Pneumatic Controls and valves
Authorised Marine chemical supplier
Medical Stores and Chest Certification
Electrical / Electronics and Charts Supplier
Hire of equipment's and Labour contractors
Environmental Services
Vessels all Husbandry Agency & Services
Electric Motor & Generator rewinding services
Waste & Sludge removal services
Underwater photos & Inspection assistance
Wire mesh Ropes
UnderWater Ship Servicing
For our underwater ship services, we not only respond to the work at hand efficiently, professionally, and with top of the line equipment, but also offer resources that would allow us to assist our clients with information on underwater materials, procedures, and equipment available to them.

Specialized services include Hull inspection and assessment, Propellor, Shaft Cleaning, Sea Chest valve Cleaning, Photography, and repair of submerged structures worldwide.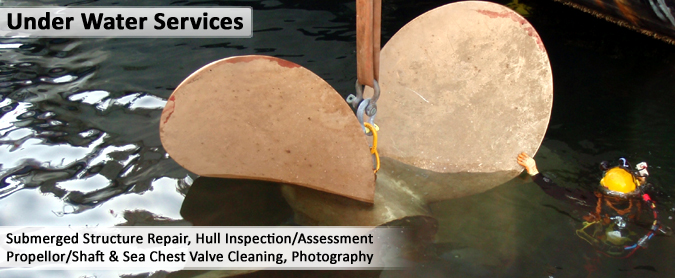 We have employed a diversified inventory of state-of-the-art equipment and technologies to provide the client with a multidisciplinary approach for a broad range of underwater survey and structural inspection requirements.

A full fleet of advanced robotic vehicles and the latest in imaging, underwater mapping and inspection technology supports our engineers and technicians. Supported by our in-house engineering and ecological resources, we provide clients in the public and private sectors with integrated turnkey services for all project phases: assessment and planning, design and fabrication, installation and operations.

Anchor Ship Chandlers has earned an international reputation for the highest standards of quality in serving Hull inspection, assessment, Propeller, Shaft cleaning, Sea Chest valve Cleaning and Photography. We welcome the opportunity to handle new and greater challenges in the underwater environment.
Ship Repair Services
Anchor Ship Chandlers is a leading Company in this sector. Since its beginning, the dedication of our employees has given us the worldwide reputation for prompt, efficient, quality service. It has developed a large satisfied client base and has a large product range supported by it's vast experience and internal R & D.

We undertake guaranteed repairs of all types of vessels. Our repair and trouble shooting teams are headed by experienced staff and engineers. Each team is equipped with sufficient diagnostic and repair tools.

Twenty-four hour, seven-day-a-week shifts insure minimum down time for vessels under repair. Our customers, many of whom have used the services of ANCHOR SHIP CHANDLERS, gain the advantage of having shipyard workers sometimes more knowledgeable with vessels than their own crews. From a small voyage repair, to conversions, to scheduled major repairs, the work is performed efficiently and at competitive, cost-effective prices.



Specialized Services
Audio Gauging
Diving & Underwater Inspections/Repairs
Boiler Control Panel's
Electrical Repairs AC or DC
Refurbishing
Electronic Repairs
Carpentry
Insulation
Coating Applications
Locating & Purchasing of Specialty Items
Conversions
Motor Rewind, Repair or Replacement
Damage Surveys and Repair
Refractory Replacement
Sewage Systems
Steel Fabrication & Replacement
Tank Cleaning
Traveling Repairs
Valve Rebuilding & Repair
Water Blast to 35,000 psi
Welding (certified)
Propeller Service
Diesel Engine Repairs
Pump Repair or Replacement
Drydocking
R-Stamp Certified for Pressure Vessels
Asian Gypsy Moth Inspection and Quarantine
We try to provide all kinds of services to our esteemed clients. As part of our efforts to meet our client's requirements, we are also providing Asian Gypsy Moth inspection and quarantine services for ship.

We provide expert level Asian Gypsy Moth Inspection and Quarantine services for Ships. Our methodology consists of Integrated Pest management (IPM) and IPP which follows guidelines of Central Insecticide Act of 1968 and Considers use of Pesticides approved by WHO & EPA. We also make use of more alternate chemicals to arrest the resistance of Asian Gypsy Moth in ships. We also make sure to follow IMO regulations for pest management on board vessels and follow NSPM, ISPM & Australian standards in fumigation of any kind.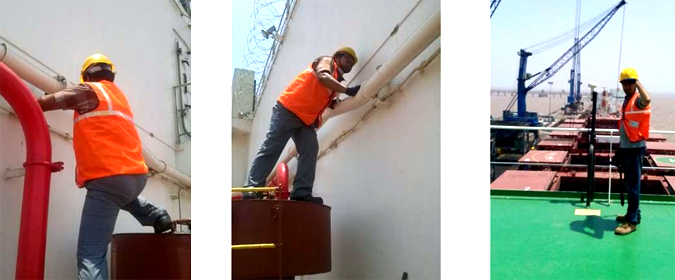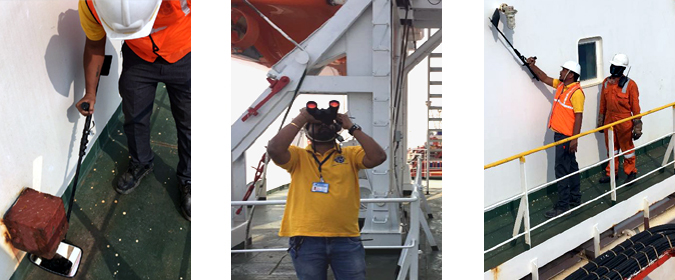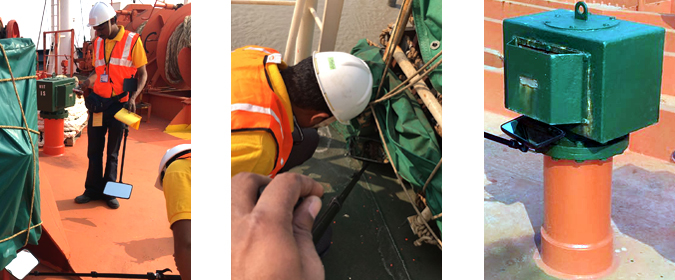 ---