UnderWater Ship Servicing
For our underwater ship services, we not only respond to the work at hand efficiently, professionally, and with top of the line equipment, but also offer resources that would allow us to assist our clients with information on underwater materials, procedures, and equipment available to them.

Specialized services include Hull inspection and assessment, Propellor, Shaft Cleaning, Sea Chest valve Cleaning, Photography, and repair of submerged structures worldwide.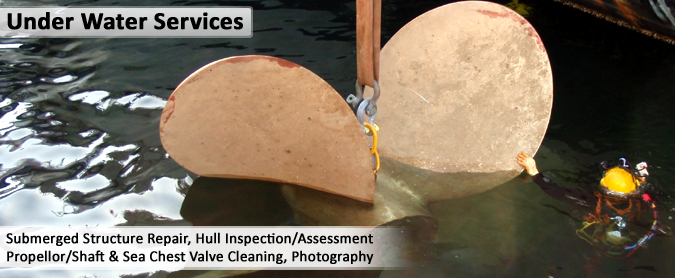 We have employed a diversified inventory of state-of-the-art equipment and technologies to provide the client with a multidisciplinary approach for a broad range of underwater survey and structural inspection requirements.

A full fleet of advanced robotic vehicles and the latest in imaging, underwater mapping and inspection technology supports our engineers and technicians. Supported by our in-house engineering and ecological resources, we provide clients in the public and private sectors with integrated turnkey services for all project phases: assessment and planning, design and fabrication, installation and operations.

Anchor Ship Chandlers has earned an international reputation for the highest standards of quality in serving Hull inspection, assessment, Propeller, Shaft cleaning, Sea Chest valve Cleaning and Photography. We welcome the opportunity to handle new and greater challenges in the underwater environment.
Ship Repair Services
Anchor Ship Chandlers is a leading Company in this sector. Since its beginning, the dedication of our employees has given us the worldwide reputation for prompt, efficient, quality service. It has developed a large satisfied client base and has a large product range supported by it's vast experience and internal R & D.

We undertake guaranteed repairs of all types of vessels. Our repair and trouble shooting teams are headed by experienced staff and engineers. Each team is equipped with sufficient diagnostic and repair tools.

Twenty-four hour, seven-day-a-week shifts insure minimum down time for vessels under repair. Our customers, many of whom have used the services of ANCHOR SHIP CHANDLERS, gain the advantage of having shipyard workers sometimes more knowledgeable with vessels than their own crews. From a small voyage repair, to conversions, to scheduled major repairs, the work is performed efficiently and at competitive, cost-effective prices.



Specialized Services
Audio Gauging
Diving & Underwater Inspections/Repairs
Boiler Control Panel's
Electrical Repairs AC or DC
Refurbishing
Electronic Repairs
Carpentry
Insulation
Coating Applications
Locating & Purchasing of Specialty Items
Conversions
Motor Rewind, Repair or Replacement
Damage Surveys and Repair
Refractory Replacement
Sewage Systems
Steel Fabrication & Replacement
Tank Cleaning
Traveling Repairs
Valve Rebuilding & Repair
Water Blast to 35,000 psi
Welding (certified)
Propeller Service
Diesel Engine Repairs
Pump Repair or Replacement
Drydocking
R-Stamp Certified for Pressure Vessels
---